April 16, 2008
NEW GUITAR PLAYER ANNOUNCED!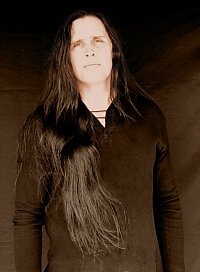 After much consideration and many qualified applicants, we have come to a decision on a new guitar player. We have chosen Rick Van Zandt. Rick is a very gifted player who spent many years in the Seattle metal scene in bands like The End, Rottweiller and the Ronny Munroe Band. Some of Rick's influences are Steve Vai, Richie Blackmore and Eddie Van Halen.
Rick brings a whole new level of playing to Metal Church and we are all glad to have him. We are sure you will be as well.
Get ready for some shredding! The new album really kicks some metal ass. Every band says that, but we mean it!!
Kurdt, Ronny, Steve, Jeff and Rick
---
February 14, 2008
Due to personal reasons, Jay Reynolds has left Metal Church. We thank him for his contributions to the band, and wish him all the best in future endeavors.
Jay's replacement has not been decided upon yet, but it will be announced here when a decision has been reached.
Thanks for your continued support!
Cheers,
Metal Church
---
September 18, 2007
Welcome to our new/old website!
If you're reading this, then you've found your way to our new URL. Bookmark it now, it's metalchurchmusic.com... we'll be here from now on!
Now that all of the bullshit drama is over, we wanted to let you know what's been happening with our domain name.
The Metal Church website was originally set up by a fan of the band named Steve Black back in 1998. He set the site up using the "corporate" name of his website, Paradigm Media Group. We believe he was planning on starting a web design company with this name, but it never got off the ground. He ran the Metal Church website for a couple of years, but then decided to step back due to some internal conflicts.
The site sat dormant for over a year, and then Kat took over the website administration. Mr. Black provided Kat with the log-in information but he never turned ownership of the website over to the band, and he completely disappeared shortly thereafter. Over the last 6 years, we have made dozens and dozens of attempts to find him, with no luck. He moved, disconnected his phone, left his job, and never replied to any of our numerous e-mails. Eventually, his e-mail account stopped working as well. We contacted the hosting company in an attempt to locate Mr. Black, and they (Caprica Web Services, now apparently defunct as well) refused to help us.
So, we renewed to the domain name every year as it came due, and continued our search for Steve Black with no luck. This year, the domain registrar, Network Solutions, changed their policies so that only the registered owner of the domain is able to renew it. Obviously, this presented a problem for us.. as Steve Black/Paradigm Media Group "owned" metalchurch.com, and he was nowhere to be found.
Kat spent many, many hours dealing with Network Solutions attempting to get the domain name transferred to us. We hold a trademark, we're an LLC, we've been paying the bill for the last 8 years, we have access to the website, etc. In the end, none of that mattered to the almighty Network Solutions and they refused to release "our" domain to us. In an interesting side note, Network Solutions themselves were unable to reach Mr. Black during repeated attempts, but obviously, despite the fact that this only proved our case, they informed us that they were "unable" to accomodate us.
Literally, our ONLY option was to let the domain name expire completely and let it go up for public auction on September 15th. In the meantime, Network Solutions put up a nice big "This domain has expired.. put in an offer!!" notice on our front door.. essentially advertisting for someone to come take our name. Kat asked them if they would at least remove that notice since they wouldn't actually DO anything to help us, and they refused that request as well. So, we all discussed it and came up with the maximum amount that we were willing to pay to buy back OUR OWN DOMAIN NAME at auction, and then we waited.
When the name went up for auction on the 15th at 12:15 PDT, there were 31 bids within the first minute. We were amazed.. we were hoping that it would just quietly default to us. After 3 days of bidding, the price went beyond our maximum. We decided to double our maximum bid, and the auction went back and forth until the last minute when the new maximum was passed. At that point, we decided to cut our losses and just get a new domain name.. and here we are.
For anyone who is interested, you may view metalchurch.com new owner's registration details by clicking here and entering "metalchurch.com" in the search box.
We apologize to our fans and business associates for all the confusion for the last month or so, but since things were so uncertain from a legal standpoint, we thought it was best to keep things private until the matter was resolved.
Once again, update your bookmarks, and welcome to our NEW congregation!
Cheers,
Metal Church
---
NOTE FROM RONNY
NEW AUDIO ADDED
I have just completed my demo with the help of Mr. Kurdt Vanderhoof and my good friend Dennis Turner. I have added these songs to my Original Music page.
There are two crushing metal songs and one I have included for all the ladies. Take a listen and enjoy!!!!!!
We have a few shows coming up... more details to follow. I would love to see you out there.
Cheers,
Ronny
---
April 29, 2007
Ronny Munroe To Perform With Jon Oliva's Pain At Bay Area Rockfest
Metal Church lead singer Ronny Munroe will join festival co-headliners Jon Oliva's Pain on stage to close out the night's festivities at the Bay Area Rock Fest next weekend, May 4-5.
Commented Jon Oliva's Pain in a statement: "Having shared the stage with Metal Church last year, including an unscheduled cover tune jam at Spain's Metalway festival in Gernika, JOP is honored to have Ronny performing with them once again. Special thanks to Ronny for donating his valuable time in helping to raise money and awareness for Guitars Not Guns, the charity recipient for this great festival."
Bay Area Rock Fest is a progressive rock and metal festival which will take place on Friday and Saturday, May 4-5 at The Independent in San Francisco. Confirmed acts include Jon Oliva's Pain, Spock's Beard, Enchant, Crimson Glory, Mob Rules, Balance Of Power, Zero Hour, Eyefear, Timeline and Odins Court. D.C. Cooper has been confirmed as a special guest of the festival. Proceeds from the festival will benefit Guitars Not Guns, a national charity that brings music lessons and guitars to inner-city youth.
Single-day tickets are now available for Friday and Saturday nights at $48.00 in advance or at the door. Festival ticket prices remain the same at $85.00. Tickets are available through Ticketweb.com or at the Independent Box office.
Jon Oliva's Pain has just returned from its spring 2007 European tour, performing 17 shows in 8 countries. Pre-production is well underway for the third release from JOP, due out on AFM Records in January/February 2008. A very special multi-media presentation is set to be included with the next release. JOP will return to Europe in October when they headline the prestigious ProgPower Europe festival in Holland. More tour dates will be added soon.
April 29, 2007
Metal Church Singer Finalizes Lineup For Solo Project
Metal Church singer Ronny Munroe has finalized the lineup for his solo project. He has recruited his former Rottweiller bandmates Rick Van Zandt on guitar, Izzy Rehaume on bass and Doug Marapodi on drums along with Q-5/TKO/Nightshade guitarist Rick Pierce. Ronny is currently working on demo songs for his new CD, tentatively due later in the year. Look for Ronny Munroe's band to do some warm-up dates in September along with playing at the upcoming Clive Aid on September 22 at the Los Angeles Forum.
In other news, two of Ronny Munroe's former bands - Paladin (1987) and Far Cry (1991) - will have their music released on CD next month via Retrospect Records.
As previously reported, Ronny Munroe will join festival co-headliners Jon Oliva's Pain on stage to close out the night's festivities at the Bay Area Rock Fest next weekend, May 4-5.
---
February 26, 2007
Steve Unger to tour with Temple Of Brutality
Steve is going to be playing with Temple Of Brutality, taking over David Ellefson's spot on the tour.
The tour starts March 7, 2007 with shows scheduled through April 2, 2007.
For further info, check their website at www.templeofbrutality.com
---

February 21, 2007
A Note From Jeff Plate:
Back in the 'Seattle' Again...
Get it?

Thanx for the good words and well wishes. A little time off and some exercise and therapy has certainly helped. I knew it would, I've been through this before. Although I am not 100%, I'm feeling much better.
Finishing up the Seattle area shows was what I was shooting for, so far so good.
The Saturday show in Seattle was great, actually was considering we hadn't played or practiced in 3 weeks! The remaining 4 will be as well.
Once again, thanx to everyone, and we will do what we can to make up the canceled shows.
Take care
Jeff
2-17 Seattle
2-21 Portland (moved from 2-14)
2-23 Coeur D'Alene
2-24 Algona (Tacoma)....sold out!!!
2-25 Olympia


---
NEW METAL CHURCH VIDEO!!
The new video for Mirror Of Lies was filmed on Metal Church's European tour in the summer of 2006 by Roax Films. You must have Flash enabled to view the video. Click here!
---
THIS JUST IN!
We now have the ORIGINAL 1983 demo recordings of Hitman and Deathwish (both instrumental and with David Wayne's vocals), along with 2 other early works. Click here to read the history of these songs, as well as download them!
---
February 13, 2007
Touring update:
As of now Metal Church is able to finish a limited number of shows.
The new confirmed schedule is:


2-17-07 Studio Seven
Seattle, WA

2-21-07 (moved from 2-14) Roseland Grill
Portland, OR

2-23-07 The Grail
Coeur D'Alene, ID

2-24-07 The Royal Bear
Algona (Tacoma) WA

2-25-07 4th Ave Tavern
Olympia, WA


All of the Canadian shows are canceled and postponed to a later date; We again apologize to all of our fans , friends and promoters and hope to do make up dates as soon as possible.
Support live Metal and see ya at these remaining shows!!!!!
---
February 9, 2007
Touring update:
The following shows are definitely canceled:
2-10 Yucaipa CA; 2-11 Mexicali Mexico; 2-12 West Hollywood CA; and 2-13 San Francisco, CA.
The good news is that the band should be able to resume the tour around February 16th. Our apologies to fans, friends and promoters. We are hoping to do make up dates for these shows as soon as possible.
Stay tuned for future details.
Thank you for your support!
Metal Church
---
February 6, 2007
Touring update:
There have been rumors that Metal Church has found a replacement drummer to take over while Jeff recovers from his recent disc flare-up. These rumors are untrue, the band will not be using a replacement drummer and are hoping to re-start up the tour beginning with Yucaipa, CA on February 10th.
The following shows are definitely canceled:
Corpus Christi, TX; Houston, TX; Austin, TX; Farmington, NM; Albuquerque, NM; El Paso, TX.
Once again, we apologize to the fans, clubs, and promoters. We will work on putting together make-up dates in the near future.
Thank you for your support!
Metal Church
---
February 2 , 2007
Yesterday we put up an announcement stating that drummer Jeff Plate had incurred an injury at the Nashville show and due to that some shows would be canceled. The announcement was put together very quickly because we wanted to get the word out to the ticketholders in order to avoid as much inconvenience for them as possible; however we did not have all the facts at that time. Here is a statement from Jeff himself explaining the circumstances behind the cancellations:
"As much as we did not like making the decision to cancel shows, I personally am also upset at the vague explanation that was posted about my situation.
I did not injure my back the other night. I have had a herniated disc in my upper back since 1994, which I did to myself hitting golf balls one day in Buffalo on my first Savatage tour. This flares up once every couple of years, and unfortunately it decided to rear its ugly head now.
The disc swells and pinches the sciatic nerve in my left arm, which causes more pain when I'm not moving than it does when I'm playing, and unfortunately not playing is the only way it heals. My doctor has always recommended against surgery, and a traction unit to relief the pressure and time off is the only way to help this.
And, not to make excuses, but I've been drumming now solid for four months straight: TSO rehearsals, the tour and now the Metal Church tour. This tour has beaten us all up. The schedule has been crazy to say the least, the weather has been terrible, problems with the bus, no heat, arriving late to the venue and helping unload and setting up my drums, no days off... it all caught up to me, and everyone else for that matter. Let's face it, I'm not a kid anymore. This sucks, trust me.
I cannot honestly say when I'll be able to play at this intensity again, but it is generally several weeks. I have some work with Mark Wood at the end of February, but it is not nearly as demanding.
There are many people involved in putting this tour on and it obviously affects everyone.
Once again, sincere apologies to everyone."
The original statement is below:
February 1 , 2007

>>IMPORTANT ANNOUNCEMENT!<<
Last night in Nashville, drummer Jeff Plate suffered a spinal disc injury. Jeff is currently seeking medical treatment.. prognosis soon to follow.
Unfortunately, the band has to cancel at least 3-6 shows, pending Jeff's prognosis.
We apologize to our fans for the inconvenience... we were especially looking forward to the Texas shows and makeup dates should be forthcoming soon. Contact your venues for refund/honoring information.
The following shows are definitely canceled: Columbus, MS; Fort Worth, TX; San Antonio, TX
Stay tuned for further updates.
---
September 20, 2006
To our fans:
We have now completed two very successful European tours for A Light In The Dark, and are eagerly awaiting our North American tour which starts in early January. Right now the boys in the band are busy with various other projects and life itself. We hope all our fans that came to see us in Europe enjoyed the shows, and we look forward to coming back as soon as possible.
To our American fans, get ready for the metal, because it's comin' atcha! See the On Tour section of the website for dates in your area.
We'll see ya soon.. keep the metal alive!
- Ronny, Kurdt, Jeff, Steve, and Jay
---
August 15, 2005
May the Congregation gather....
Well Church fans, this is it, the last leg of this year's tour. One more western run and we're done for the year! So check the "On Tour" page to catch a show near you. After this we head into the studio to work on the next release.
Also we want to thank everyone for their support over the last year and a half, and most importantly let you know that if we did have to cancel a show in your area in the past year, it was due to VERY EXTREME circumstances... we had transportation mechanical failures, illness, and a few promoters that just weren't gonna pay us!!!
We apologize for missing the shows that we did, and we hope to see you all soon!!!
KEEP IT HEAVY!!! KEEP IT REAL!!!
- Metal Church
---
April 7, 2005
Hello again metal heads! It's been awhile since our last news post, but we have been BUSY!
October, November, and December of 2004 saw Metal Church on a state-side tour supporting Weight Of The World, and we want to once again thank ALL our loyal fans for turning out. It was a smashing success, and special thanks to our new friends and opening act 3 Inches of Blood. Great band, be sure and check them out!
We got home just in time for the holidays, took January off, in February we played several regional shows AND went to Germany to do the Metal Forever Festival, which was a benefit for tsunami victims. Our March tour of Europe was postponed for summer and news on that is to follow soon.
In the mean time we have been in the studio writing and demo'ing the new album. We have also just confirmed the Monterrey Metal Festival for May 28th in Mexico and will have a major tour announcment soon!
Keep it Heavy!
Metal Church
---
March 1, 2005
Apologies to Boise! We deeply regret having to cancel our February 26th show. After playing in Portland on the 25th, our tour bus suffered an ill-timed mechanical failure, prohibiting us from making the snowy trek. Please watch this website for an upcoming makeup show.
Metal Church
---
August 8, 2004
Hello to all!
We've finally recovered from the 6-week warmup tour, which was a smashing success. The response and the support was overwhelming.. we can't thank those of you who came to our shows enough. So now that we've caught our breath, taken a nap and done our laundry, we're putting together some more U.S dates and some European dates for late fall and early next year. Dates will be posted here as they are confirmed.
We hope to be playing every place possible this year, so we'll look for you on the road!
Cheers and Beers to all!
Kurdt, Kirk, Ronny, Jay and Steve
---
August 2, 2004
The record label has pushed back the release date of "The Weight Of The World" to September 28, 2004 (USA) and September 29, 2004 (Europe) in order to more heavily promote the album. The first leg of the tour has wrapped up, and more dates are being put together now.. we'll post them on the site as they get confirmed.
Management is very pleased with how well Metal Church was recieved on the road, and while waiting an extra 2 months for the album release wasn't in the original plan, having their support and promotion behind us will help get Metal Church into more venues world-wide.
---
May 15, 2004
The new website is launched in anticipation of Metal Church's new album, "The Weight Of The World", available world-wide on July 26, 2004. Parts of the site are still under construction, look for it to be completed later in the month.
Metal Church is touring to introduce the world to the new album and band members. Click here for tour dates and here for information on the band members.